King holds talks with Polish president in Warsaw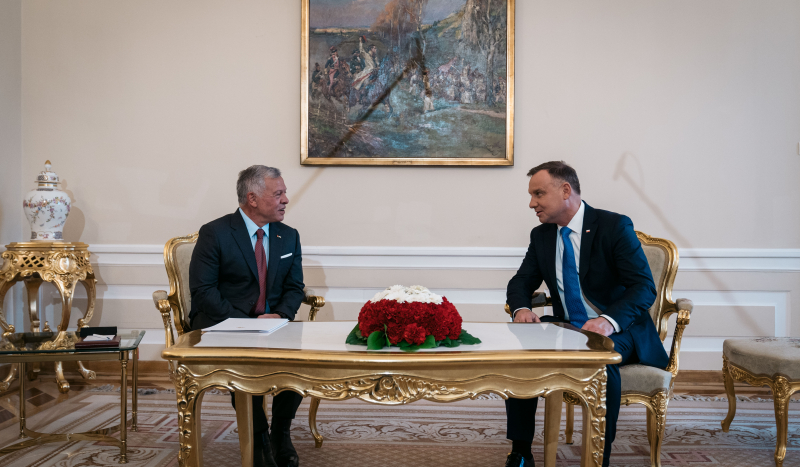 His Majesty King Abdullah on Tuesday held talks with Polish President Andrzej Duda on bolstering cooperation and the latest regional developments.
Discussions covered means to enhance economic, trade, tourism, agricultural, and defence cooperation.
King Abdullah noted the deep-rooted ties between the two countries, thanking President Duda for the warm welcome.
The talks, attended by His Royal Highness Prince Ali bin Al Hussein, covered the need to reach political solutions to regional crises.
His Majesty stressed Jordan's commitment to working towards peace and stability in the region, adding that the Kingdom is dedicated to peace as a strategic choice.
The King noted that Jordan signed the peace treaty with Israel 27 years ago, and its position remains steadfast in support of all efforts towards just and comprehensive peace between the Palestinians and the Israelis, on the basis of the two-state solution, guaranteeing the establishment of an independent, sovereign, and viable Palestinian state on the 4 June 1967 lines with East Jerusalem as its capital.
His Majesty commended Poland's support for peace based on the two-state solution, stressing the need to maintain support for UNRWA to sustain its relief services in line with its UN mandate.
Jordan, the King continued, will persist in its efforts to safeguard Islamic and Christian holy sites in Jerusalem, under the Hashemite Custodianship.
The two leaders discussed food security and means to counter COVID-19, with His Majesty stressing the importance of international cooperation.
The King also highlighted the need to continue international efforts to counter terrorism within a holistic approach.
For his part, President Duda welcomed His Majesty and noted the two countries' keenness to bolster the ties of friendship and cooperation across all sectors.
Deputy Prime Minister and Foreign Minister Ayman Safadi, Director of the Office of His Majesty Jafar Hassan, and a number of senior Polish officials attended the talks.
Also in Warsaw, the King visited the Tomb of the Unknown Soldier and placed a wreath there.
On the sidelines of the Warsaw visit, Deputy Prime Minister and Foreign Minister Safadi and Polish Foreign Ministry Secretary of State for Legal and Treaty Affairs, the United Nations, Consular and Parliamentary Affairs Piotr Wawrzyk signed a memorandum of understanding for cooperation between the two foreign ministries.
They also signed a programme of cooperation between the two countries' governments in the fields of education, science and culture (2021-2024).